4th Military Clinical Hospital with the Polyclinic in Wroclaw is one of the most modern facilities. It has the latest generation of medical equipment and diagnostic equipment. It consists of five large clinics, 27 clinical departments, a hospital emergency department, a helicopter landing pad, laboratories, diagnostic laboratories and a polyclinic. Annually heals over 60,000 patients in his medical departments.

Problem to solve / task
Hospital Pharmacy in Military Clinical Hospital supplies medicinal products to all hospitals departments. Pharmacy required a modern, wireless system that enables constant temperature and humidity monitoring in accordance with applicable regulations on monitoring refrigerators and storage rooms in hospital pharmacies.
In accordance with applicable regulations constant temperature and humidity monitoring is required (both in refrigerators and in the rooms where medicines are located).

4th Military Clinical Hospital, Wroclaw
"Efento system allows monitoring of temperature and humidity in refrigerators and storage rooms of the Hospital Pharmacy. SMS and e-mail notifications about monitored parameters, allow us to tak actions, if there are any problems outside of Pharmacy's working hours. It is a good safeguard for medical products and devices stored in the Pharmacy. The system allows us to check temperatures from any place in the World and automatically create reports. System does not require cable connections and allows measurements at multiple points simultaneously what makes it very useful in places where, due to the distribution of measurement points, wired connections would be a barrier.
Good contact with the company, assistance in choosing the right devices and configuration, easy installation and ongoing service combines to a high rating of Efento's system.
Director of Planning and Recording Section
Solution
Hospital pharmacy uses Efento Cloud for monitoring temperature and humidity in refrigerators and rooms where medical products are stored.
Efento wireless sensors measure temperature and humidity, wirelessly send the data to gateway which transmits them to Efento Cloud platform.
Efento Cloud enables sensor data collection and visualization, automatic reports extraction and notifications in case of safe thresholds had been exceeded.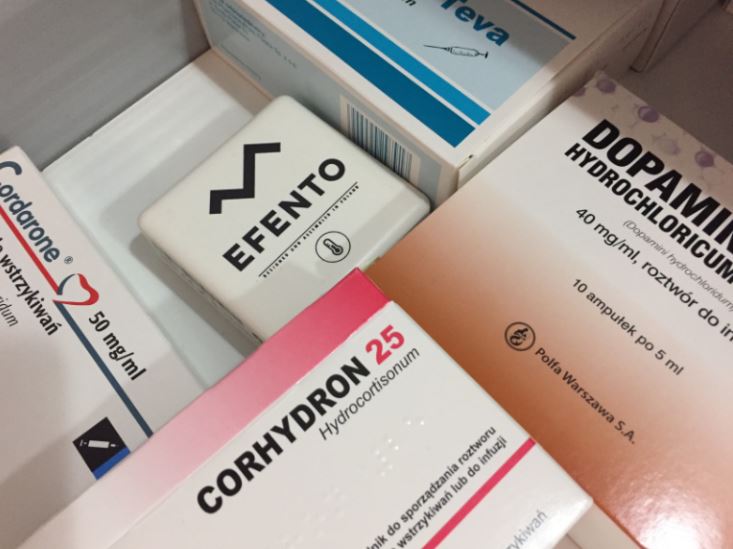 Efento Cloud platform consists of 13 servers working in parallel at different locations. In the event of a failure or trouble with data transmission to one of the servers, their functions take over the remaining ones. This solution ensures continuous operation of the platform and full safety of measurement data. If the set thresholds are exceeded, the system allows sending notifications to any number of users by e-mails and SMS.