Efento Cloud is a platform that allows you to collect, analyse and visualise sensor data, generate reports out of it and notify users, if the values measured by the sensors are out of the safe range. Efento Cloud works with all Efento sensors, no matter what communication technology they use. Platform offers webhooks and RESTful API, which can be used to integrate it with any third party software. Users can access Efento Cloud through a web browser or a mobile application.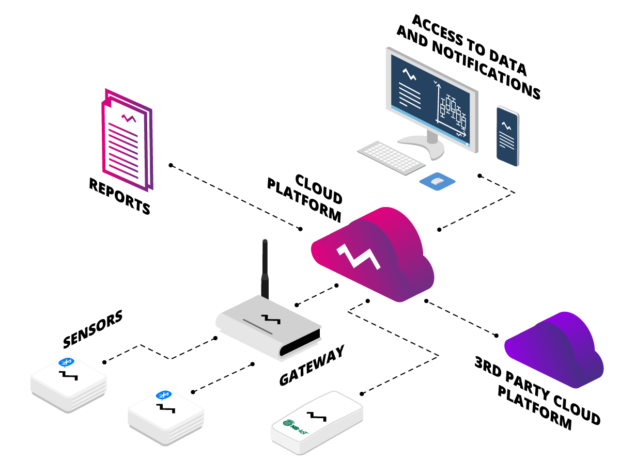 COLLECT DATA FROM ALL SENSORS
Efento IoT platform allows you to collect the data from all Efento sensors, no matter what do they measure and what technology do they use to communicate with the platform. You can use Efento Cloud with both NB-IoT sensors and Bluetooth Low Energy sensors with gateways.
WEB PANEL AND MOBILE APPLICATION
We provide you with a web dashboard and a free mobile application to access your data and manage your fleet of sensors. No matter where you are, you will always be able to check the measurements or get notified, if something is wrong.
INTEGRATIONS
Efento Cloud offers webhooks and RESTful API, which can be used to integrate the sensor data to any third party solution. All the platform functions are available through the API.
NOTIFICATIONS, REPORTS, VISUALISATION
Data that reaches the platform can be visualized on graphs, exported as PDF or CSV reports or can be used to trigger alerts if the measurements are out of the safe range.
Dashboard – key information at a glance
Dashboard collects the most important information in one place. You can quickly see the list of all sensors along with their current measurements and statuses, filter out the devices you want to see or browse devices assigned to a specific location.
LOCATIONS
Locations are used to map your organization's structure in the form of a tree and assign individual sensors to its branches. The method of grouping is not a subject to any restrictions, you can use geographical (e.g. Country -> Province -> City -> Facility), functional (e.g. Type of facility -> City -> Exact location) or other, better suited to your organization.
SENSOR STATUS
In the dashboard, you can see the current status of each sensor. This allows you to see, which devices have problems or report values out of the safe range.
FILTERS
Efento Cloud enables quick and convenient filtering and sorting of sensors. You can filter the sensors by name, serial number, measured physical size or location. In addition, you can quickly filter out sensors in alarm state, non-working sensors, low battery sensors or switched off devices.