The AutoIDMed2 software developed by Greensoft is designed for cell banks, transplant clinics, healthcare facilities and laboratories. The system ensures compliance with the ISBT128 standard and compliance with stringent procedures for the processing of blood products, bone marrow and tissues. Thanks to the software integration with Efento sensors and gateways, the software also enables temperature registration in refrigerators, freezers and incubators in which preparations are stored.
The most important system functions include:
Registration of donor's qualifications with accompanying results of virological and genetic tests as well as accompanying documentation
Label printing for donations based on your own catalog of labels
Registration of the stages of the collection, processing, storage and release process
Tracking laboratory events in the processing of blood products and tissues
Recording of the consumption of materials, reagents and disposable equipment in the context of donations or the process stage for donations – warehouse management module
Support in creating documentation related to medical procedures of donations – filling out documentation templates
Environmental monitoring support for equipment and rooms
Temperature, humidity and pressure monitoring based on the Efento sensor system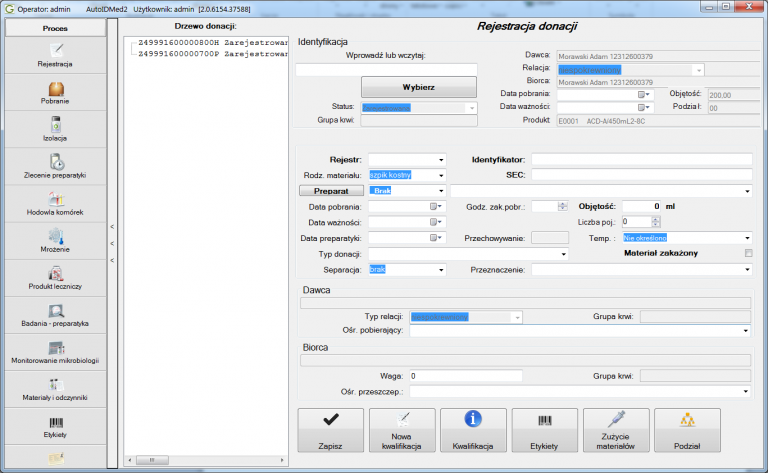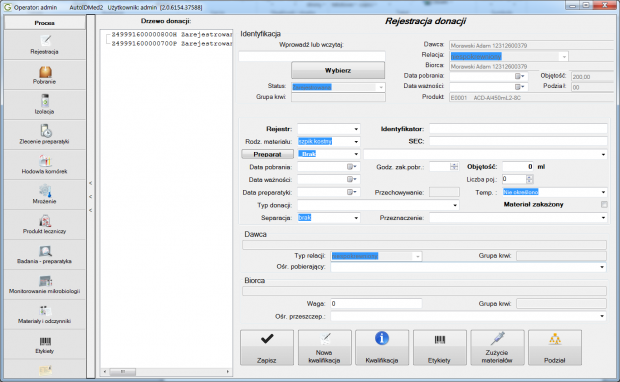 Measurement data from temperature and humidity sensors are sent to the computer on which the software is installed using Efento Gateway. In addition, the gateway saves all sensor measurements in its own built-in memory and in the event of the computer being turned off, the missing measurements are sent after re-establishing communication.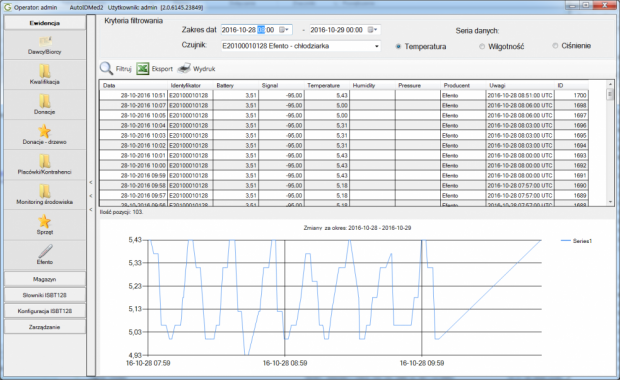 In the AutoIDMed2 program, measurement data can be presented in the form of a table or graph. Measurements can be exported to a csv file, which can be opened and processed, e.g. using MS Excel or OpenOffice Calc. Measurement data can also be printed for archiving purposes.
On request, the sensors can be delivered with a calibration certificate at any temperature and humidity point by an accredited laboratory.
AutoIDMed2 software is developed by Greensoft. More information about the software and implementation can be found on the manufacturer's website.