About our client
St. Mary's Basilica often called "the Crown Gdansk" is Europe's largest temple built of brick. It has a volume of approx. 155 000 m 3 , the length of 105.5 m , a width in the transept 66 m . 26 free-standing pillars, support a magnificent starry vault and crystal. It rises to a height of 30 m. The church interior is introduced to all the buttresses which form the crown 31 shrines, circumferential entire temple. The interior of the church is illuminated by 36 huge windows, the largest of which, decorated with stained glass is located in the eastern part of the presbytery.
The church built in 1346-1506 years is an example of the brick Gothic style, a variety of styles of architecture Gothic.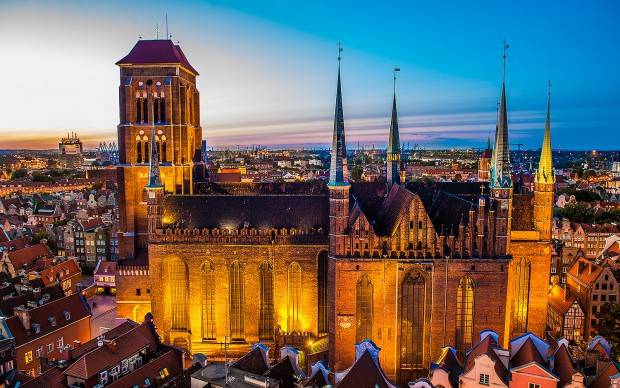 Problem to solve / task
In 2017 a thorough repair of the Basilica started. The exchange of the roof and the floor can indeed affect climatic conditions at the Church. The long-term control of environmental conditions is necessary in order to keep optimal temperatures and the humidity, especially after repairs, after moving objects or after the change of the manner of the ventilation and to warm.
The investor sought the solution which in an unattended way could monitor the temperature and the humidity and generate reports of these measurements.
Solution
The client has made a decision to buy Efento wireless temperature and humidity sensors.
The loggers are powered by a battery, which is sufficient for a minimum of 3 years of operation and accumulates 60,000 measurements in memory (measurements of temperature and humidity from 1 year with sampling every 15 min). When the memory is full, the data is overwritten – the oldest measurements are replaced with new ones.
When recording temperature and humidity every hour, the device's memory is enough to record data for about 4 years.
Due to the wireless transmission and no need to build a measuring infrastructure, the installation of Efento temperature and humidity recorders consists only in mounting the device in the right place.
Reading data from the device memory is done wirelessly using a smartphone or tablet with the free Efento Logger application.
In practice, downloading e.g. monthly reports boils down to 30-meter proximity of the smartphone and download the report as a pdf file. The file can be sent by email for archiving and analysis.