We are pleased to inform you that the Efento Cloud platform has received another update. As part of the update, we have introduced several new functionalities, e.g. two new types of notifications in alarm rules: push notifications to the mobile application and webhooks, the ability to define your own http headers for webhooks, remote configuration of NB-IoT sensors and API tokens to facilitate integration. All changes are described in the Efento Cloud user manual.
Push notifications
The first new feature is support for push notifications to the Efento mobile application for Android. Thanks to this, users can receive important information related to their devices (notifications in case of thresholds exceedances, loss of communication between the platform and loggers and low battery) on their smartphones and tablets. It's the perfect solution for those who need quick and easy access to information wherever they are. To use push notifications, download the free Efento application for Android devices, log in to your Efento Cloud account, and then define an alarm rule from the platform level, which will send a notification to the selected user if exceeded. Push notifications are completely free.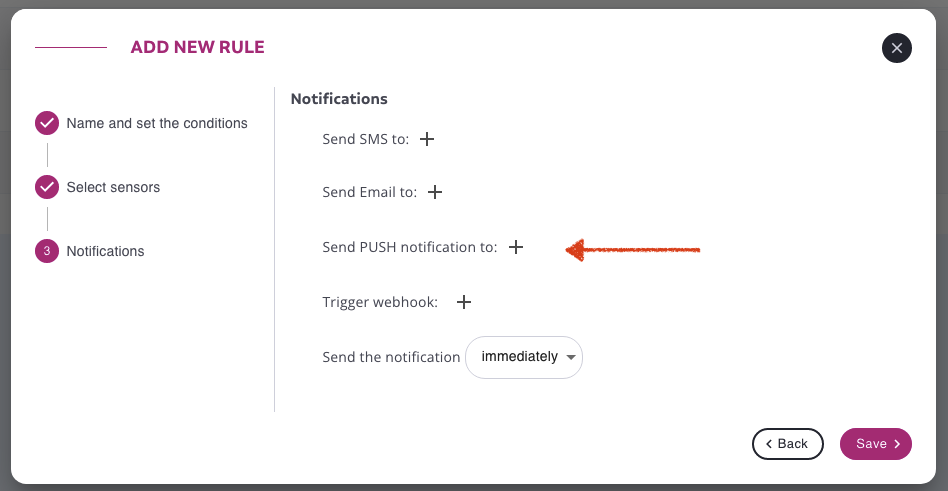 Alert webhooks
The second of the new actions that can be triggered in the event of an alarm (threshold exceeded, loss of connectivity, low battery) are webhook notifications. In case of activation of the alarm, the Efento Cloud platform will send a message (POST) to any server defined by the user. This type of notifications makes integration easier and allows you to react faster to any problems. This is especially important for companies that need to control many devices at once and urgently need information about their status in their own software.
Custom webhook headers
Another of the new features of the platform is the ability to set your own headers for webhooks (both alarm and measurements). Thanks to this, users can integrate data from Efento Cloud with platforms that require authorization by sending the appropriate http header. For each of the configured webhooks, you can set up to five custom http headers and enter their values.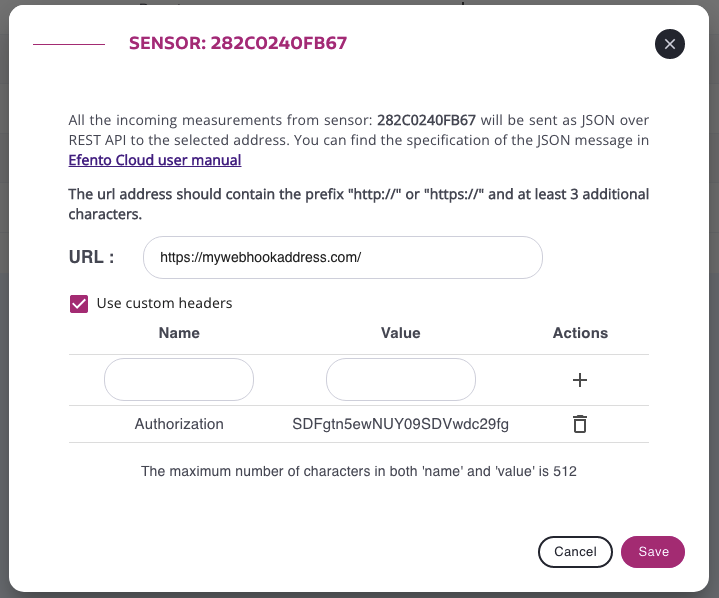 Remote configuration of NB-IoT sensors
After the April update is deployed, users can configure NB-IoT sensors remotely. Users with manager or administrator privileges can remotely change: the measurement period, the transmission period with the ACK frequency and the time after which the sensor's Bluetooth interface will be turned off. This is a very important functionality for organizations that have many devices and want to have full control over their configuration. Thanks to the possibility of remote configuration of NB-IoT sensors, users no longer need to have physical access to the logger to change its settings. This is especially convenient when the devices are in hard-to-reach places or when the on-site person does not have the technical skills to configure them. In case of replacing a logger with a new one (e.g. during calibration), the newly added logger will take over the settings of the old one.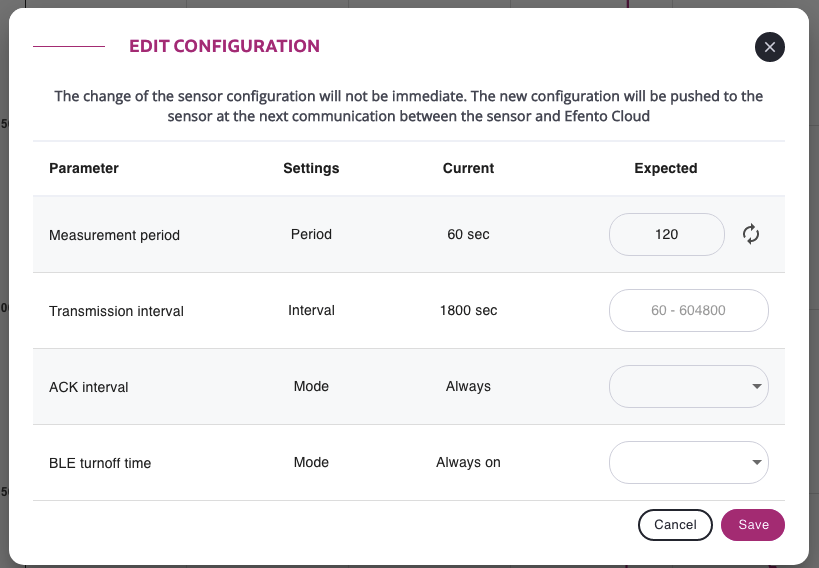 Auto logout
In the April update, we changed how the auto logout function works. Until now, the platform automatically logged the user out after 15 minutes of inactivity. After the update, each user can individually set the idle time after which they will be automatically logged out of Efento Cloud or disable this function completely.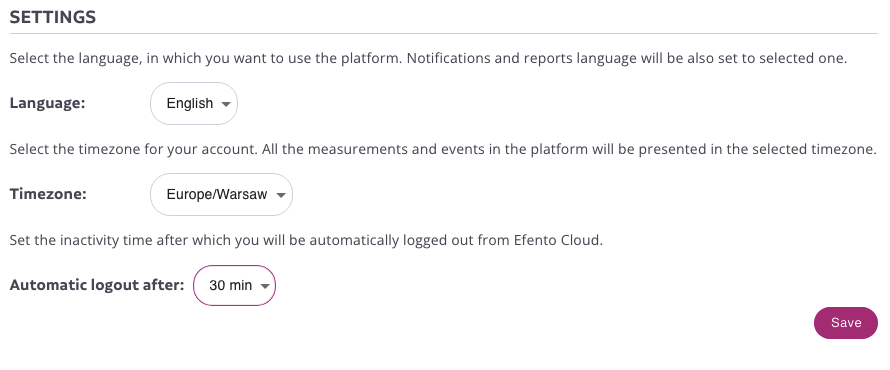 API tokens
The last new functionality is the ability to configure API tokens and grant them access to selected locations. Thanks to this, users can integrate Efento Cloud with other applications and systems using the API, without the need to provide login details of a specific user. API tokens allow read-only access, i.e. they allow, for example, to download measurements, but they do not allow any changes to be made to the platform.


New languages support: French and Hebrew
Efento Cloud is now available in French and Hebrew. Users can set their language preferences in their account settings.