In the April update of Efento Cloud, we introduced a new way of informing users about events in the Efento Cloud platform: free notifications in the Efento mobile application. After installing the application and configuring notifications, the user can be informed about: exceeding alarm thresholds, low battery level of loggers or loss of communication between a logger and the platform.
Notifications in the mobile application are free, and the length and type of notification sound can be freely configured by the user.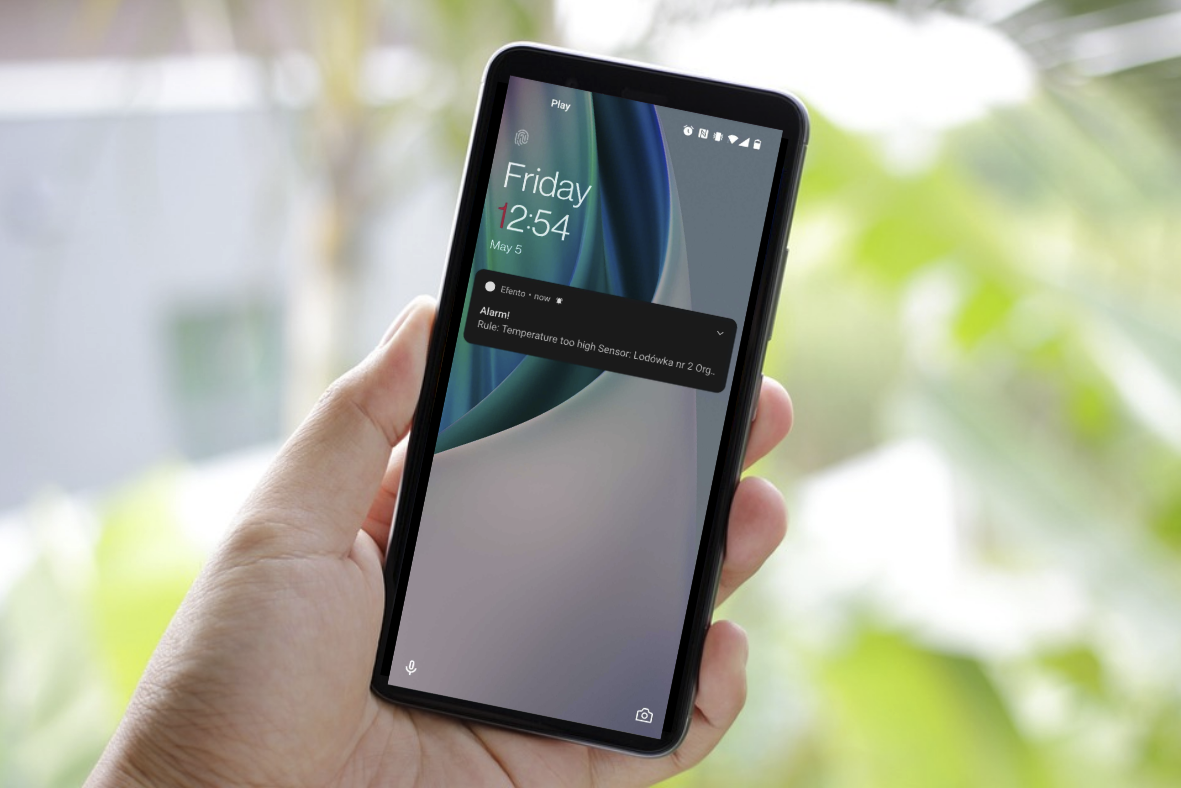 How do mobile app notifications work?
Notifications in the mobile application are sent by the Efento Cloud platform in the event of a user-defined alarm rule. When configuring the rule, after selecting the loggers to which it applies and specifying the rule condition, it is possible to select users belonging to the organization who will be notified of the rule occurrence by a notification in the mobile application. If the selected user has the Efento mobile application installed on their mobile device and is logged in to their account in Efento Cloud, in the event of an alarm, they will be notified about it.
These types of notifications (called "push") are currently the most popular way of sending notifications to mobile applications, used e.g. via popular messengers, banks or taxi ordering applications.
Why is it worth using notifications in the mobile application?
Push notifications sent from Efento Cloud go directly to users' mobile devices in the same way as SMS, but unlike SMS, they are free.
This is a particularly big advantage in the case of large organizations that send several hundred emergency text messages a month. Additionally, unlike SMS, push messages do not have a length limit. Thanks to this, in the push message sent from Efento Cloud, the user gets all the necessary information about the alarm, and after clicking on the message, he is transferred to the details of this alarm in the mobile application.
The advantage of push messages over e-mail notifications is the time of delivery of the message to the user. Notifications in the Efento mobile application are immediate, thanks to which the user is notified of a failure practically at the moment of its occurrence. In the case of e-mail notifications, there is always a delay resulting from the time needed to send messages between e-mail servers or a delay resulting from the frequency of checking messages by the e-mail client.
In addition, the Efento application allows users to assign any type of notification sound. Thanks to this, the user can set, for example, a long sound signal for notifications and the information about exceeding the threshold will not be missed.
How to start using notifications in the mobile application?
If you are already a user of Efento Cloud:
Download the Efento mobile application for Android.
Log in to the mobile application using your login and password (the same ones you use when logging in to Efento Cloud via a web browser)
Set up an alarm rule or edit an existing rule. In the "Notifications" section, press the "+" next to the "Send PUSH to:" item, and then select the user who is to receive notifications in the event of an alarm
If you are not yet a user of Efento Cloud:
Create an account at cloud.efento.io
Add loggers to your account
Download the Efento mobile application for Android.
Log in to the mobile application using your login and password
Configure the alarm rule. In the "Notifications" section, press the "+" next to the "Send PUSH to:" item, and then select the user who is to receive notifications in the event of an alarm