We are pleased to announce that our new Efento Cloud application is now available. Mobile application that allows access and service of the account in the cloud from a smartphone, from anywhere in the world.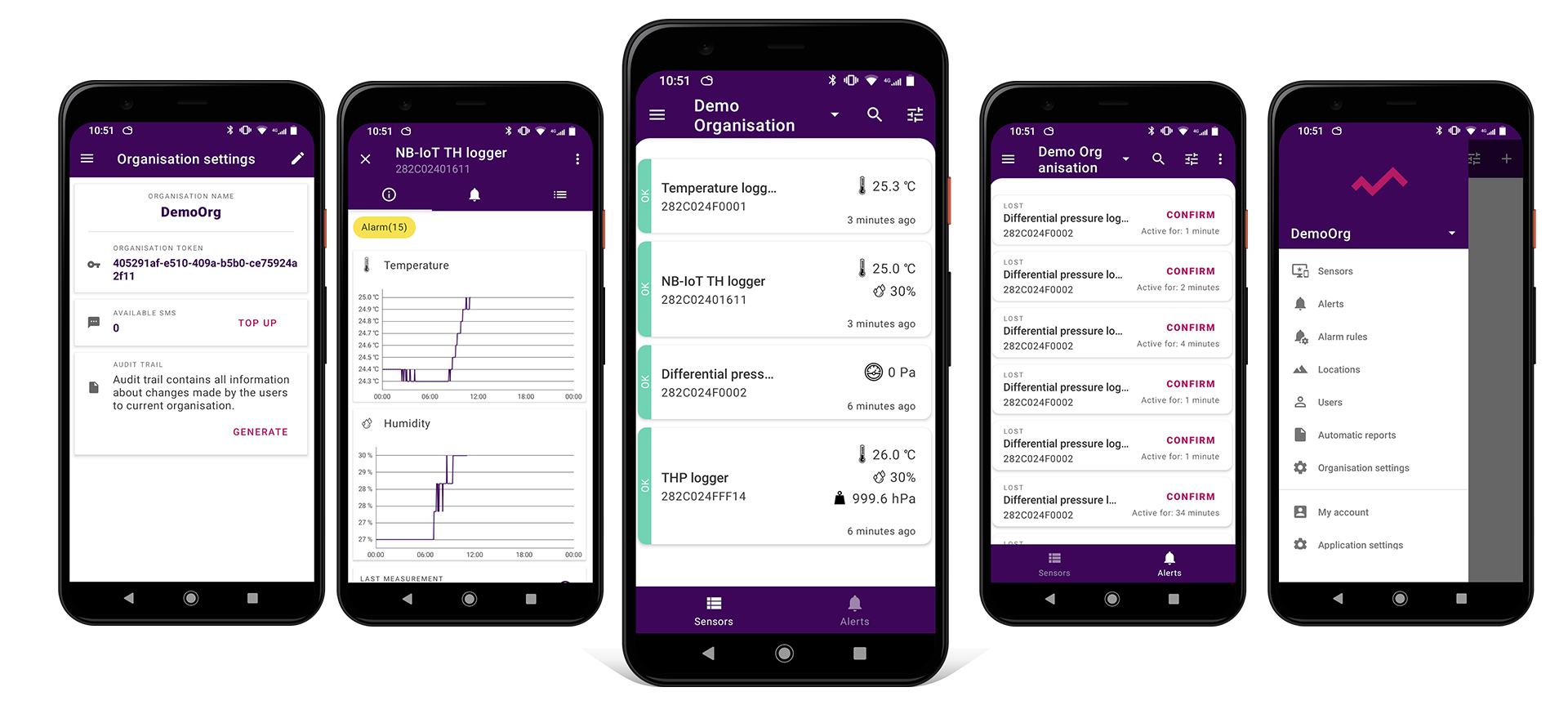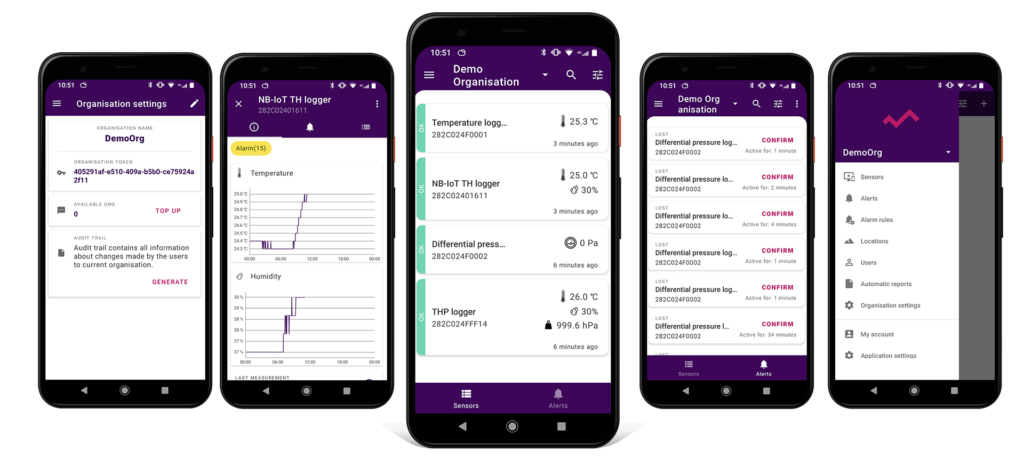 Managing and configuring organizations, sensors and alarms from a smartphone is fast, intuitive and convenient. Adding a sensor to the organization takes about 45 seconds, no additional devices are needed, everything can be configured from the application
MOST IMPORTANT FUNCTIONS:
VIEW OF SENSORS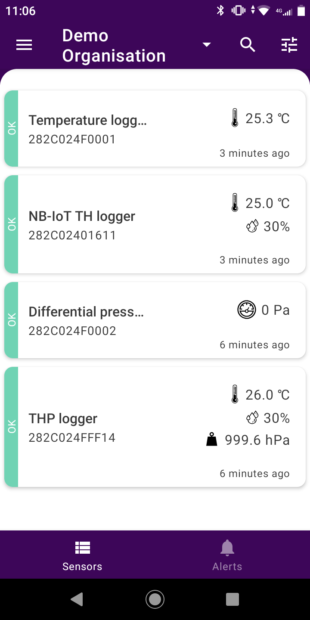 Shows measurements and other important information about all sensors added to the organization. There are current sensor measurements along with the measurement time and sensor location in the organization's structure. On the left next to the name of the sensor, its current status is visible:
OK – a green label with the word OK means that the sensor is working properly and sends data to the platform
Lost – a gray label with the word LOST means that the platform does not receive data from the sensor.
Alarm – red with the word ALARM means that the alarm threshold of this sensor has been exceeded
Battery – means that the sensor battery is running low and needs to be replaced After selecting the sensor, you can see detailed information such as alarm events, measurement data in the form of a table or graph and rules alarm to which the sensor is assigned.
ALARMS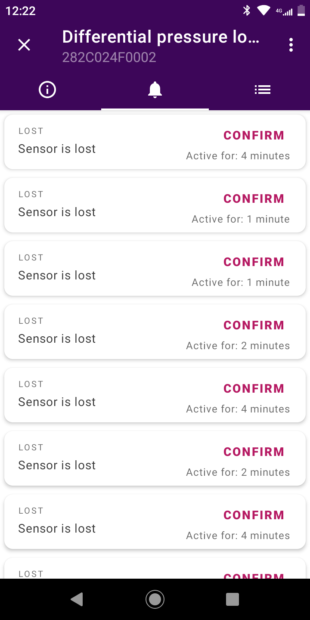 For each sensor, it is possible to set alarm rules that, when exceeded, generate an alarm for a specific sensor. Information about the alarm is visible at each sensor and can be sent as an e-mail or SMS notification.
ALARM RULES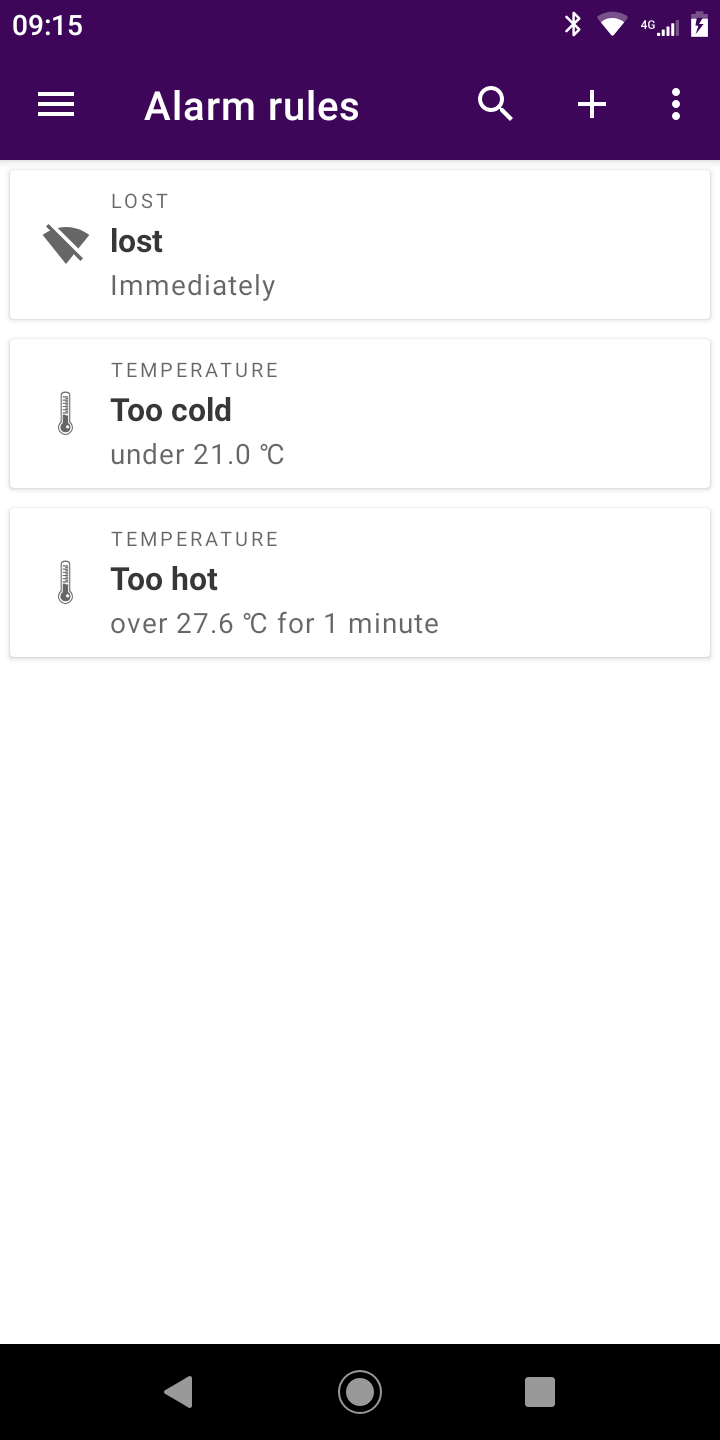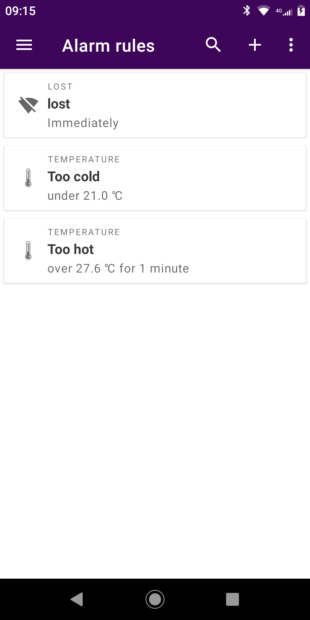 These are formulas that determine which events in Efento Cloud should trigger an alarm. The rule consists of impulse, condition and action, e.g. if the temperature (impulse) rises above 10 degrees (condition), the platform will send an SMS notification to selected recipients (action). Rules can be configured at your own discretion – e.g. sending notifications to different recipients depending on the temperature level; exceeding the thresholds will be recorded only on the platform (without sending a notification) etc. You can define any number of alarm rules and assign sensors to each of them. On the Efento Cloud platform, you can configure several different types of rules depending on the impulse that initiated the alarm.
LOCATIONS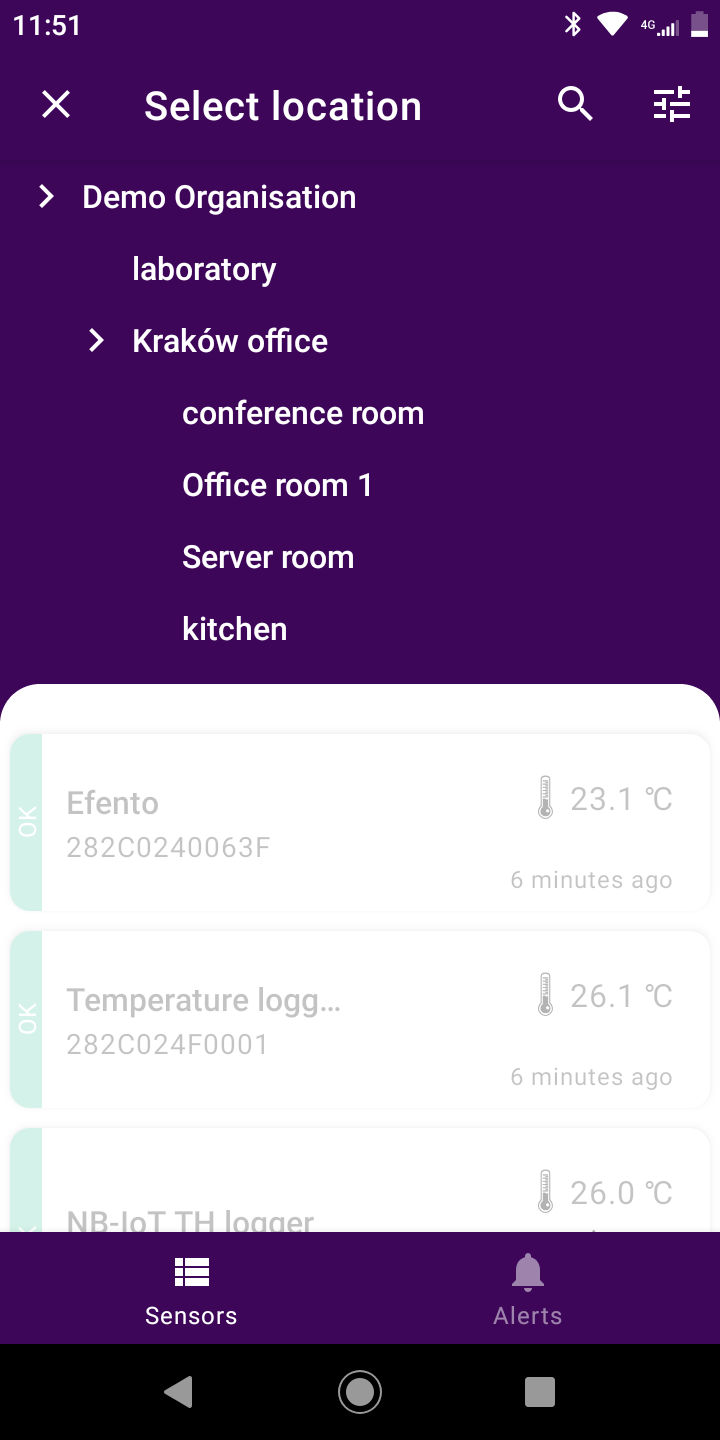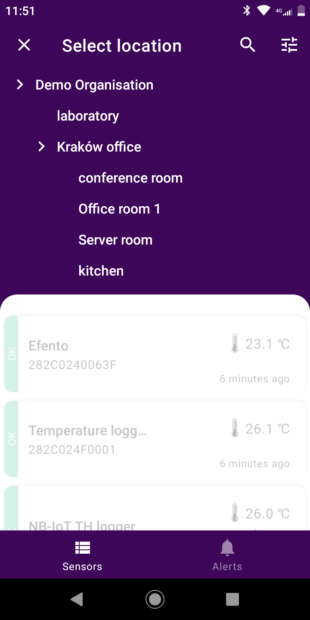 The application allows easy organization and management of the locations and sensors assigned to them. Thanks to this, you can create a location tree and have transparent access to data. The grouping of sensors is unlimited, you can use geographical distribution (e.g. Country -> Districts -> Cities -> Facilities), function distribution (e.g. Object type -> City -> Exact location) or any other, depending on your needs. In addition, users assigned to your organization may be given specific permissions in different locations.
REPORTS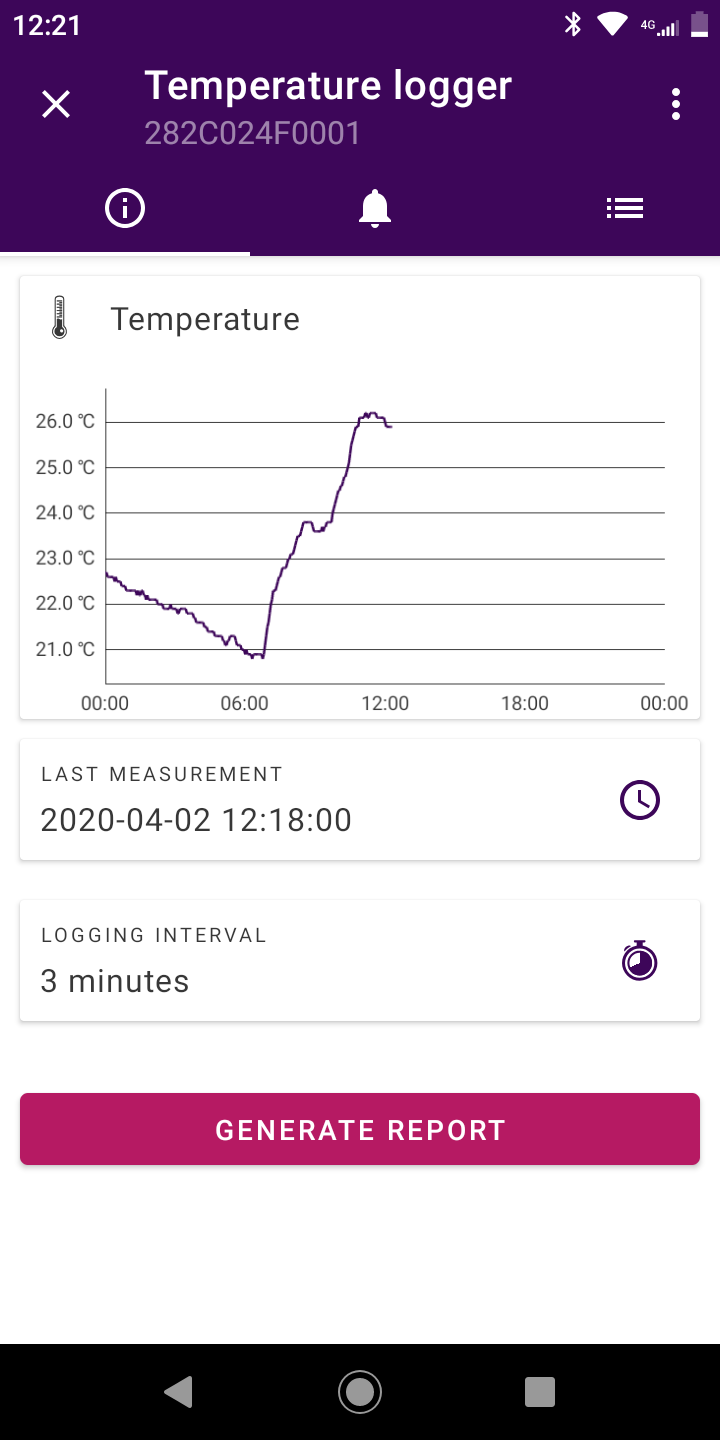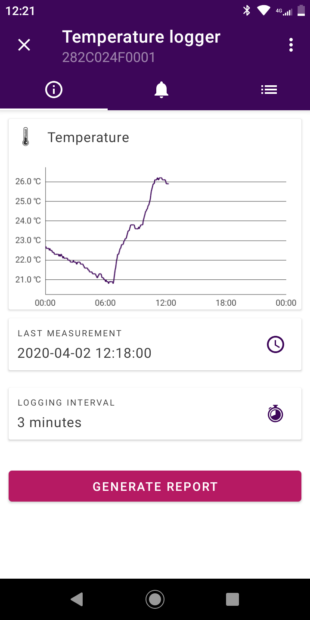 Measurements from a selected period can be exported at any time as a PDF or CSV file. In addition, Efento Cloud allows you to configure automatic reports that will be sent at a selected frequency (e.g. daily, once a week or once a month) to any email address. Reports include measurements made by sensors. In addition, they may contain information about events such as violation of alarm rules, connection loss or low battery. Measurements can be recorded in reports at a frequency of 3/15/30/60 minutes.
---
To be able to use the Efento mobile application, you must have an account on the Efento Cloud platform.
The application can be downloaded free of charge from the Google Play store. During registration, you will be directed to the Efento Cloud website, where you must create an account. After setting up your account, an email is sent with an activation link that you must click to complete registration.
Users who already have a registered, active account can skip the above steps and log in by entering their email address and password directly in the application.
The full user manual is available here.
---