Sensors

By the end of this year, we plan to introduce a bunch of new sensor types along with accessories and new software features. New sensor types will be available in all communication technologies used by Efento (NB-IoT, LTE-M, Bluetooth Low Energy).
New, modular sensor hardware (release November 2020)
Modular sensor design will allow us to quickly deliver prototypes of sensors of different physical values and produce small batches of sensors with relatively low cost. The modularity includes different sensor types, communication technologies (NB-IoT, LTE-M, 2G, 3G), power supply (2AA batteries, 3 AA batteries, USB power supply, USB power supply with backup battery) and enclosure (designed for particular sensor type and environment, in which the device will operate). Sensor will support multiple NB-IoT bands, what will make it work all around the World (Asia, Americas, Europe, Africa, Australia).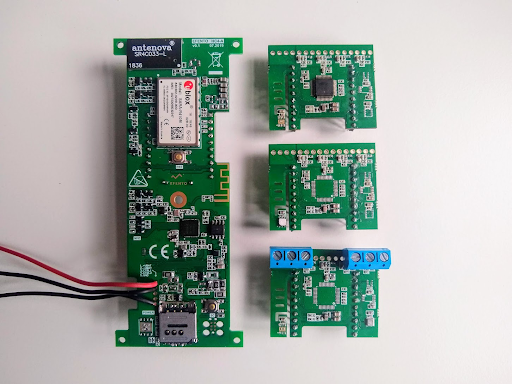 Different power up options (release November 2020)
Right now, to power up the sensor user removes the battery stripes. We are working on different ways of powering up the sensor, including a mechanical switch (button) and a reed switch (in order to switch the sensor on, user only needs to touch sensor enclosure with a magnet)
New sensor types (release December 2020)
New modular hardware will support different sensor add ons – an extension board, which will allow to measure different physical / chemical values. In the first stage, we will add support of the following sensors: H2S, NO2, CH4, NH3, CO, O3, Dust (PM1, PM2.5, PM10), light, water level, noise level, soil moisture
Gateway
Custom CA certificates (release October 2020)
Allow users to add custom CA certificates which are used for data encryption. This will allow users to securely send the data (over https) from Efento Gateways to their own, custom solutions.
Two way SSL (release November 2020)
The key advantage of this feature is that data sent by each Efento Gateway will be signed with an unique certificate assigned to this gateway. Thanks to this, users can be sure, that the data sent to the Efento Cloud platform / customer's server comes from Efento Gateway and has not been modified by a third party ("men in the middle" attack). Moreover, this will allows users to use Efento Gateways with AWS IoT core or Azure IoT services out of the box
GSM Gateway (release Q2 2020)
We are developing a version of Efento Gateway with GSM support. This device will be useful for all places, where there is no Internet connection. Gateway will have the same features as the Ethernet version of the Efento Gateway
Cloud platform
New mobile application (already released, continuously updated)
We have develop a new mobile application "Efento" which gives you access to all the platform features from your mobile device. Moreover, it allows you to easily configure sensors and gateways and add them to your platform. We are constantly adding new features to the application. One of the example are push notifications. This will allow you to always be informed about the status of your sensors and potentially dangerous situations
New frontend for Efento Cloud (release September 2020)
We are refreshing the frontend of Efento Cloud. The new frontend will offer the same functionalities as the current one in a more intuitive way
Sensor's Digital twin (release December 2020)
Each NB-IoT / LTE-M sensor will have its digital twin – a software representation of the sensor, which will hold its current configuration. This will allow users to fully remotely configure Efento sensors and synchronise the changes done over Bluetooth (with Efento mobile app) with the sensor's digital twin.
---